Why P.R. Hughes
EXPERIENCE
Phil Hughes has over 20 years of experience in the luxury custom home building and luxury renovation business.
PERSONAL ATTENTION
Your salesperson and builder are one. From the beginning, you communicate with the person that will understand your needs and the specific needs of your new custom home or custom renovation.
COMMUNICATION
We commit to communicate with you about the progress of your new custom home or custom renovation in the way that works best for you, whether that be email updates, phone conversations, or in person meetings. We provide regular communication to let you know what progress has been made and what is upcoming.
CUSTOMER SATISFACTION
Check our references. Our customers will attest to our reputation of attending to their needs before, during and after the custom home building or custom renovation process is complete.
Our Affiliations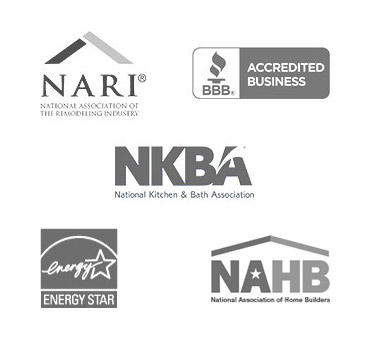 "I wanted to let you know how much we appreciate all the work you folks did for us! There isn't a day that goes by when one of us doesn't say 'I really love our new _______.' (Fill in the blank)  There are so many ways that you helped us to update our house, improve the functionality, and spruce up the look!

We really appreciate you hanging in with us through our process. The fact that you and your contractors were pleasant to work with made the long haul actually workable! We would not have taken on some of the projects without your guidance and willingness to work with us."
"We chose PR Hughes because of their attention to detail, vast knowledge of the industry, and impressive ability to complete projects on time and within budget. Jon and I were such novices in this area, but Phil Hughes' quiet confidence allayed our fears and allowed us to really enjoy the whole construction process. We had such an amazing experience-we would do it all again if we could!"
"We want to thank you for building our dream house. We can't tell you how impressed we've been. Your work and follow up show that your reputation and integrity mean everything to you. You run your business the way all businesses should be run, and unfortunately these days, that's the exception, not the rule. We are loving the house and still can't believe it's ours. We have already told anybody thinking of building a house who they need to use, PR Hughes."